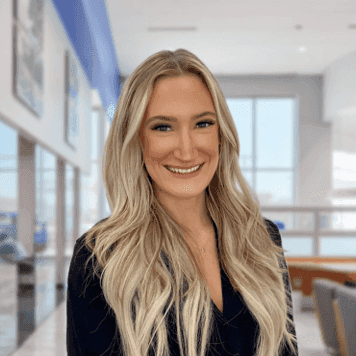 Charlotte Schroeder
Acquisition Manager
---
I'm Charlotte Schroeder, Acquisition Manager for the Germain Buying Center since August 2019. My goal is to ensure every customer feels like they are my top priority, providing the experience I would expect myself.
I'm from Whitmore Lake, MI and enjoy the peacefulness and unity of a small town. I graduated from Whitmore Lake High School and furthered my education at Western Michigan University.
My free time usually consists of lifting weights, attending church, and playing with my dog, Jolene, and cat, Sushi. When I can get away to relax, you might find me on the beach listening to Good Things Fall Apart by Jon Bellion.
Xavier Anthony McClair
Acquisition Team Member
---
Hi, I'm Xavier Anthony McClair. I joined the Germain team in April 2022 as a member of the acquisition team. I'm excited to draw on my internship experience working on an environmental campaign which taught me to sell, capture my audience, work with strangers, and get out of my comfort zone. I believe that every customer deserves honesty, promptness, and my best service which I achieve by being well informed and utilizing clear effective communication. I want to make every customer feel understood and explain things, so they have clear expectations.
Born in Ann Arbor and raised in Ypsilanti I graduated from Huron High School and Michigan State University where I earned my bachelor's degree in Media and Information. Away from work I enjoy biking, hiking, film critique, gardening, and spending time with my siblings. My superhero alter ego would have me being plant oriented and able to reverse the negative effects of climate change. I love spending time in nature, along with photography, so preserving what we have is important to me. I'm a tree hugger and enjoy my hometown area for that reason. Florida is my favorite vacation escape because it feels like Central America at times. A fun fact about me, I have adopted the vegan lifestyle and have plans to live to 100.
The Civic type-R is my favorite of the Honda line. I love pickup trucks but enjoy a good rush. I look forward to working with you and assisting with the sale of your automotive.