Honda Apple CarPlay™ Overview

What is Apple CarPlay™?
Apple CarPlay™ is a smarter and safer way to use your iPhone in a Honda vehicle. The functionality prevents you from fumbling around with your iPhone, thus, making sure your eyes stay on the road.
AppleCarPlay™ projects apps from your iPhone and displays them on the infotainment display. In order to take advantage of this feature, you'll need at least an iPhone 5 and IOS 7.1.
How Does Apple CarPlay™ Work?
To begin, you must connect your iPhone to the front USB port with a charging cable. Then, from the home screen on the infotainment display select Apple CarPlay™. This will initiate the syncing process and mirror your iPhone apps onto the infotainment display.
There are three ways to control Apple CarPlay™: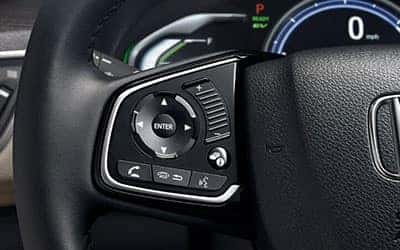 Use Siri Voice Control
To use this control, simply press and hold the voice control button on the steering wheel.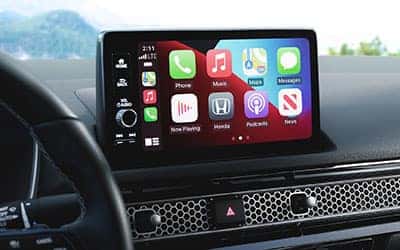 Use The Touchscreen Display
Using the display, you can open and close apps on the home screen. This is by far the most straightforward method of using Apple CarPlay™.
Use The Knobs
Physical buttons, controls, and knobs found inside certain Honda are integrated and work alongside the touchscreen and Siri options when using Apple CarPlay™.
What Apps Work with Apple CarPlay™?
CarPlay is automatically equipped with Phone, Messaging, and Maps. Apple's Siri voice command feature will help you make and return calls, and send, read, and reply to text messages. In addition to Siri, Apple Maps can predict where you're most likely going by using addresses from your text, emails, calendars, and contacts. Music apps such as Apple Beats Music, iHeart Radio, Spotify, and Stitcher also come standard with CarPlay. However, all third-party apps, are chosen by Apple. Apple chooses apps primarily on those it deems appropriate and safe for in-car use.
Which Vehicles Have Apple CarPlay™ and How Much Does It Cost?
Apple CarPlay™ is standard on several of the most popular Honda models and available as an option on many more. Listed below is a breakdown of the current availability of Apple CarPlay™ across the Honda lineup. To take advantage of a safer and more convenient phone system, check out these models in our inventory below.*
2022 Accord – (standard on all trim levels)
2022 Accord Hybrid – (standard on all trim levels)
2022 Civic Hatchback – (standard on all trim levels)
2022 Civic Sedan – (standard on all trim levels)
2022 Civic Si – (standard on all trim levels)
2022 CR-V – (standard on Special Edition and above)
2022 CR-V Hybrid – (standard on all trim levels)
2022 HR-V – (standard on Sport and above)
2022 Insight – (standard on all trim levels)
2022 Odyssey – (standard on EX and above)
2022 Passport – (standard on all trim levels)
2022 Pilot – (standard on all trim levels)
2022 Ridgeline – (standard on all trim levels)