Honda Oil Change Service in Ann Arbor, Michigan
---
Why Should You Get Your Honda's Oil Changed?
Motor oil is essential for the longevity of your engine. It keeps the internal parts of your engine well lubricated and protects them against wear and tear. Without it, your engine is more likely to overheat and breakdown prematurely. Overtime engine oil deteriorates, causing it to lose its protective agent.
When Should You Get Your Honda Oil Change?
We recommend that you get your Honda vehicle's oil changed every 3,000 to 5,000 miles to maintain your engine's performance. Your driving style and weather conditions will also play a role in how frequently you should get your oil serviced. For example, your Honda vehicle should have its oil changed more frequently during the cold Michigan winters than in the summer – but you should not exceed 5,000 miles since your last oil change.
How Much Does A Honda Oil Change Cost?
Getting your Honda's oil changed is one of the most inexpensive services you'll get on your vehicle. The price of your Honda oil change will vary based on the type of oil you prefer to use but at Honda of Ann Arbor, you can expect the cost of your oil change to start around $35.95*.
What Does This Honda Oil Change Include?
5W30 or 5W20 semi-synthetic oil change
Oil filter replacement
Why Get Your Oil Changed By Honda of Ann Arbor?
Our Honda dealership offers premium oil changes to ensure that your engine does not overheat or break down prematurely due to an oil-related problem. We help maintain your engine's performance with our Honda specific, multi-grade oil that works efficiently in hot and cold temperatures. With a Germain Honda of Ann Arbor oil change, your car, truck or SUV will get the most suitable oil for its engine.
Our service mechanics will inspect your engine, explain their findings and give you recommendations for achieving optimum engine performance. Don't wait until your vehicle breaks down to be proactive about your engine. Protect your investment by consulting with one of our Honda service mechanics. At Germain Honda of Ann Arbor, we take pride in helping our customers keep their vehicles in optimum condition.
Our Current Honda Oil Change Coupon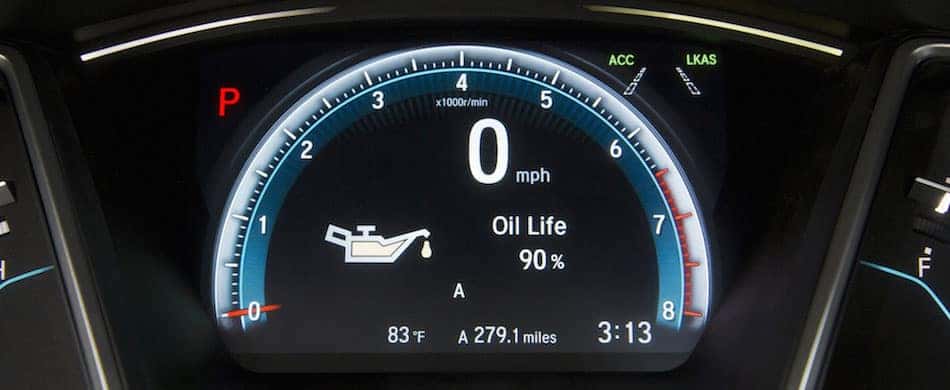 Why is My Honda Oil Change Light On?
Your Honda's "oil life" light is based on the engine operating conditions and accumulated engine revolutions. The onboard computer in your vehicle then calculates the remaining engine oil life and displays it as a percentage. The conditions that your onboard computer monitors include engine temperature and load, total miles driven and trip length, as well as vehicle and engine speed.
How To Reset My Honda Oil Change Light?
Your Honda's oil and maintenance light is there to help remind you to get your vehicle serviced. We don't recommend that you reset this light until after you've done the necessary repairs or, in this case, changed your oil. However, if you have done the repairs, we'll show you to reset your light.
To reset your maintenance light:
Put your key in the ignition.
Press and hold the odometer reset knob, which is on the dash where the car's current mileage is located.
Continue holding the odometer reset knob and turn the key to the first position but do not start the engine.
After about 10 seconds, the maintenance light should disappear.
If the light is still on, you can turn off the vehicle and then try the process again. Once your light is off, you're set until your next scheduled maintenance.
Schedule Oil Change
DISCLAIMER: *For 5W30 and 5W20 semi-synthetic oil changes. If your vehicle requires 0W20 weight oil there may be additional cost. See dealer for details.